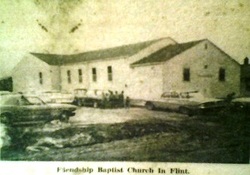 Friendship Missionary Baptist Church first started meeting in late 1939 and was known then as West Flint Mission. Its Services were initially held at the Old Gym Theater (Utley School) on Corunna Road and was pastored by Eld. Earl Kinney. In its first few months after forming the church had its first baptisms, started collecting a love offering for the pastor, as well as taking collections for foreign missions.
January 5th 1940 a motion was made to adopt the name Friendship Missionary Baptist Church. In the spring of 1940 the church had ordained its first deacons, and purchased two lots of property on Lambden Road for $200 to build its first building.
While construction of the new building was taking place the church moved its services from Utley School to the Corunna Road Store in June 1940. When construction finished, services were moved to the Lambden road building September 22nd 1940. The first service had 152 attendees.
Friendship held its first revival services June 7th 1941. In December of that year a motion was made to purchase a communion set. Friendship had its first observance of the Lord's Supper on November 15, 1942.
Throughout the 1940's – 1970's Friendship Missionary Baptist church was blessed with being able to assist in the formation of several churches: The church granted letters to the Roy and Booth families to organize the New Hope Missionary Baptist Church on Lorado Ave Flint MI. In August 1949 letters were granted to Eld. And Sis, Earl Kinney to organize New Hope in Lansing. March 1951 letters were granted to Bro Walter Roy, Sis. Ida Roy, and Bro William Roy to help organize a church in Collinsville, Illinois. April 1954 Friendship helped organize Calvary Baptist Church in Flint MI. In September 1954 Friendship helped organize Shields Missionary Baptist Church. May of 1966 Friendship sent members to help organize Shiloh Missionary Baptist Church in Davison, MI. In May 1972 Friendship sent members to organize Calvary Missionary Baptist Church in Hemlock, MI.
In the 1940's – 1970s several renovation projects also took place at the original Lambden road location to add additions, signs, indoor plumbing, a baptistery, and a church steeple. The church had four preachers during this time: Eld. Earl Kinney 1939-1949, Eld. Grover Gean 1949-1952, Eld. J.A. Lawson 1952-1954, Eld. Earl Kinney 1955-1972, and Charles Terry 1972-2001.
In January of 1980 the church voted to purchase property for its current location on West Court Street, with ground-breaking taking place in October of 1986. The first services were held at our current location in 1987.
Friendship Missionary Baptist has been blessed to work in associated efforts with other churches of like faith and order through the following:
Nationally:
1941-1949 American Baptist Association
1950-1968 North American Baptist Association
1969-1989 Baptist Missionary Association of America
1992 – Present American Baptist Association
Locally:
1943-1974 Michigan State Missionary Baptist
1975-1987 Great Lakes Baptist Missionary Association
1991-Present Landmark Missionary Baptist Association
2000 to Present
Martin B. Watkins started pastoring our church in September of 2001.
In the fall of 2002 Friendship started offering Faith Bible Institute classes.
September 12, 2012 Discovery Bible Clubs started meeting on Wednesdays.
Friendship Missionary Baptist Church continues its commitment to preach and teach the gospel message as the great commission charges us; while looking ahead to the return of our LORD.
"Go ye therefore, and teach all nations, baptizing them in the name of the Father, and of the Son, and of the Holy Ghost: Teaching them to observe all things whatsoever I have commanded you: and, lo, I am with you always, even unto the end of the world. Amen."

-Matthew 28:19-20
*compiled from "Friendship Facts" handout 2014